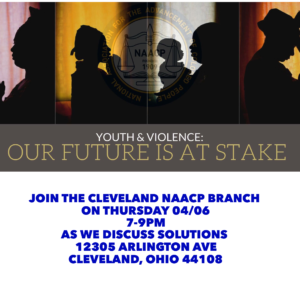 The Cleveland Chapter of the NAACP will host a community
conversation on youth violence, entitled "Youth Violence: Our Future is at Stake," at its April meeting, which will be held at the Historic Greater Friendship Baptist Church on Thursday April 6, 2017 at 7p.m.
Featured speakers will be legendary Ginn Academy Founder and Glenville High School, football and track and field coach, Ted Ginn; Dylan Sellers, organizer of the "Protect our Babies" movement; Amanda King, Founder and Director of Shooting Without Bullets; and Duane Deskins, Chief of Prevention, Intervention and Opportunity for Youth and Young Adults
for the City of Cleveland.
Coach Ted Ginn has been extremely successful in working with young men who come from a variety of circumstances and backgrounds. Acknowledging the barriers that many of his kids face, Coach Ginn has not allowed them to use those barriers has excuses. Many of his students have graduated and gone on to successful careers in sports, business, the arts and sciences and other endeavors. We look forward to hearing his approach to helping kids achieve.
Each one of our other participants are committed to sustainable solutions to youth violence and are actively engaged in protecting and redirecting young people toward positive outcomes.
The entire community is invited to this event and will benefit from what is said by these very accomplished but practical change leaders. The church is located at 12305 Arlington
Avenue in Cleveland's Glenville neighborhood. The pastor of the church is the Reverend Larry Howard. There will be more than ample protected parking across the street from the church.