To download your photo/s while on your phone or computer, click the image you want. Then click the download arrow. Follow any directions that may pop up on your screen and it should save. Please do not take a screenshot as that will lower the image quality and make your photo appear blurry.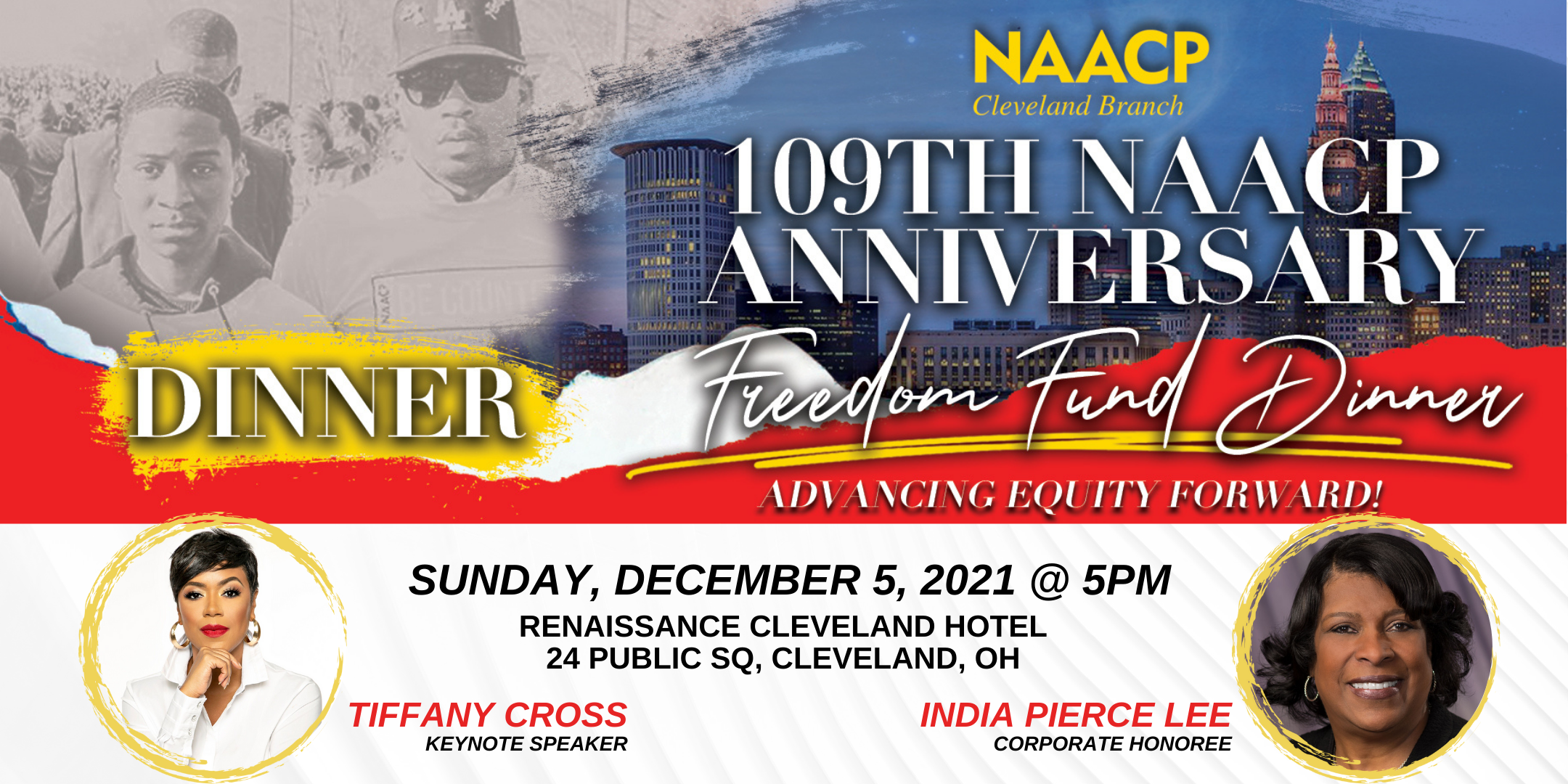 109th Anniversary Freedom Fund Dinner
Thank You To Our Sponsors
Justice Seeker: St. Luke's Foundation, Cleveland Cavaliers, Cleveland Guardians, Cleveland Browns, Cuyahoga Metropolitan Housing Authority (CMHA)
Pioneer sponsor: Key Bank, First Energy
Torchbearer Sponsor: Fifth Third Bank, Tri-C, Cleveland Foundation, Aramark

Corporate Sponsor: Gilbane Construction
To commemorate 109 years of service to the Greater Cleveland area, the Freedom Fund Dinner will be held on December 05, 2021, at the Renaissance Cleveland Hotel, 24 Public Square in Downtown Cleveland. We are pleased to honor India Piece Lee, Senior Vice President, Program at Cleveland Foundation as the 2021 Corporate Honoree.
This year's dinner will be a true celebration of the work the NAACP has done in Greater Cleveland and nationally. We are proud of our history of fighting for civil rights, social justice, and advocating for educational and economic opportunities for the citizens of the communities we serve. Towards this end, we are pleased that MSNBC Commentator, Tiffany Cross will be our keynote speaker.
The NAACP's mission is to ensure the political, educational, social, and economic equality of rights of all persons and to eliminate race-based discrimination. It is clear that the role of the NAACP, as the organization of change and social justice, is more critical than ever before. This is our democracy; we must constantly be in the mindset of Advancing Equity Forward.
Join us for a reception at 4 pm, Dinner will begin promptly at 5 pm.
The NAACP Cleveland Branch (NAACP) is committed to creating a safe and comfortable environment for all in-person events for our members, guests, staff, and volunteers. As always, the safety of our community remains our top priority.
****Everyone entering the venue will be required to wear a mask regardless of vaccination status. Guests will also be required to show proof of full Covid-19 vaccination or, provide a negative Covid-19 PCR test that has been taken within 72 hours prior to entering. Thank you in advance for your cooperation.****