TICKET SALES ARE NOW CLOSED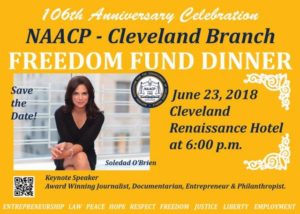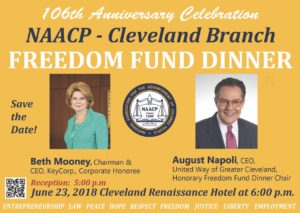 Mark your Calendars for the 106th Anniversary Celebration
Freedom Fund Dinner – June 23rd, 2018 at 6:00 pm!
All ticketed guests invited to Pre-Dinner Reception at 5:00 pm
Date:  Saturday, June 23, 2018 at 6:00 pm
Location:  Cleveland Renaissance Hotel – Grand Ballroom, 24 Public Square, Cleveland, OH 44113
Honorary Chair: August Napoli- CEO United Way of Greater Cleveland
Attire:  After-Five
The theme for this years dinner is "In Pursuit of Justice; Fighting for Equality". Current events show us that the role of the NAACP, as the organization of change and social justice, is more critical than ever before.
The keynote speaker will be Soledad O"Brien, Award Winning Journalist, Documentarian, Entrepreneur & Philanthropist. We will recognize Beth Mooney, Chairman & CEO of KeyCorp, as Corporate Honoree.
For information about becoming a sponsor click HERE
The Freedom Fund Dinner Committee can be reached by calling 216.505.0204
"Contributions or gifts to this NAACP Unit are not deductible as charitable contributions for Federal income tax purposes. However, they are deductible as an ordinary business expense."